Free shipping in mainland Spain. Consult by mail for other places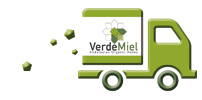 To receive your order, we only need to send your contact information (address, telephone number, email) as well as the details of your order by email to info@verdemiel.es to calculate weight and volume.
After receiving your request, we will send the cost of transport corresponding to your order. You will add the cost of transport together with the desired products to your basket.
To complete the purchase and be able to make the payment, you must choose Córdoba as the destination province, 14800 for the postal code and put your full address in the other section.
If the information is filled in correctly, all you have to do is choose your payment method